Skip to product information
Why you'll love it

Rapid Relief When You need it.

In a survey of 230 random Cramp Aid users, 93% reported relief - most within 1 hour of their first dose.
How to use

Take Cramp Aid when you need it:

Start with 2 capsules at the very first sign of period cramps. (If you know when your cramps are going to start, start taking Cramp Aid up to a day beforehand.) Repeat as needed, up to 3X a day.
Ingredients

B Vitamins

Nourishes uterine muscles

Zinc

Antioxidant & hormone regulator

Ginger

Calms uterine inflammation

Fenugreek

Antispasmodic for uterine relaxation

Dong quai

Helps regulate uterine muscles

Marigold

Potent anti-inflammatory
Regular price
Sale price
$19.99 USD
Unit price
per
Best Seller
Sold out
High-potency herbal and nutritional relief for period cramps and discomfort, in liquid capsules for fast absorption. The drug-free way to an easy period.*
View full details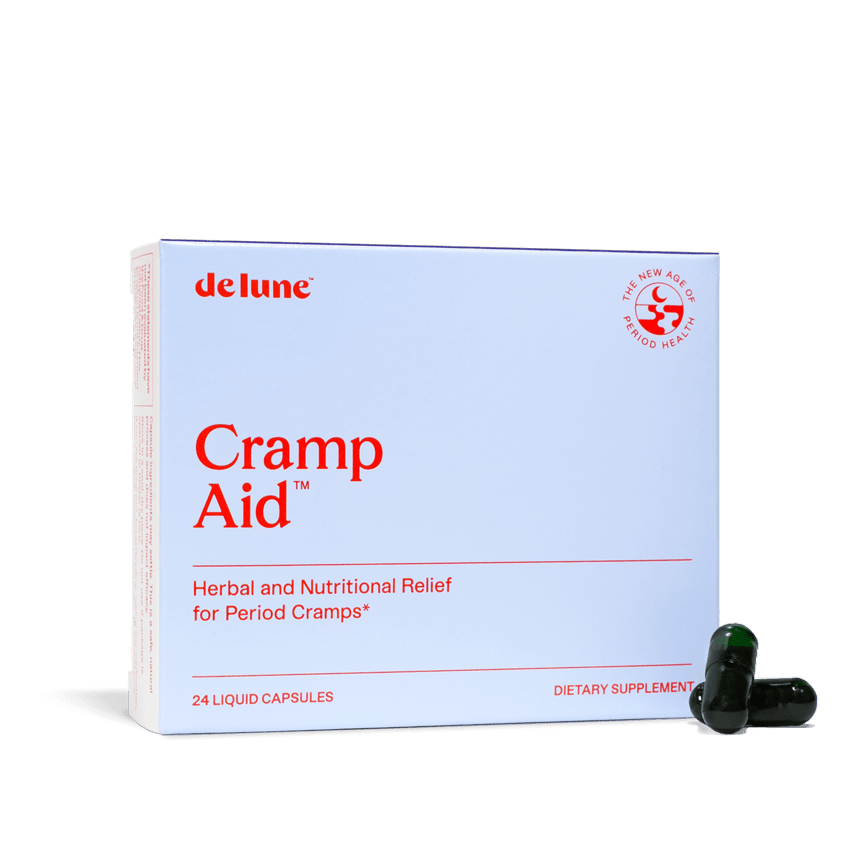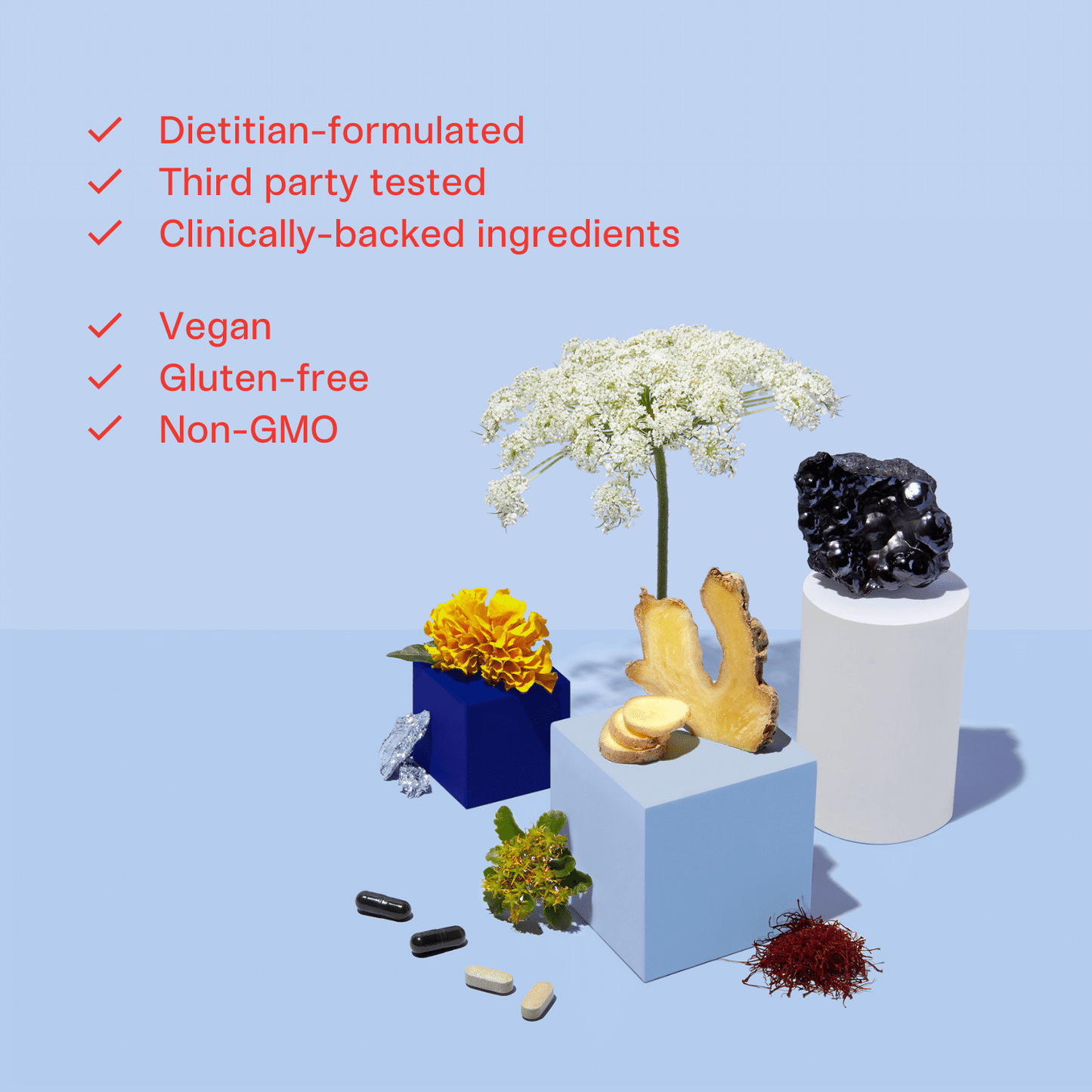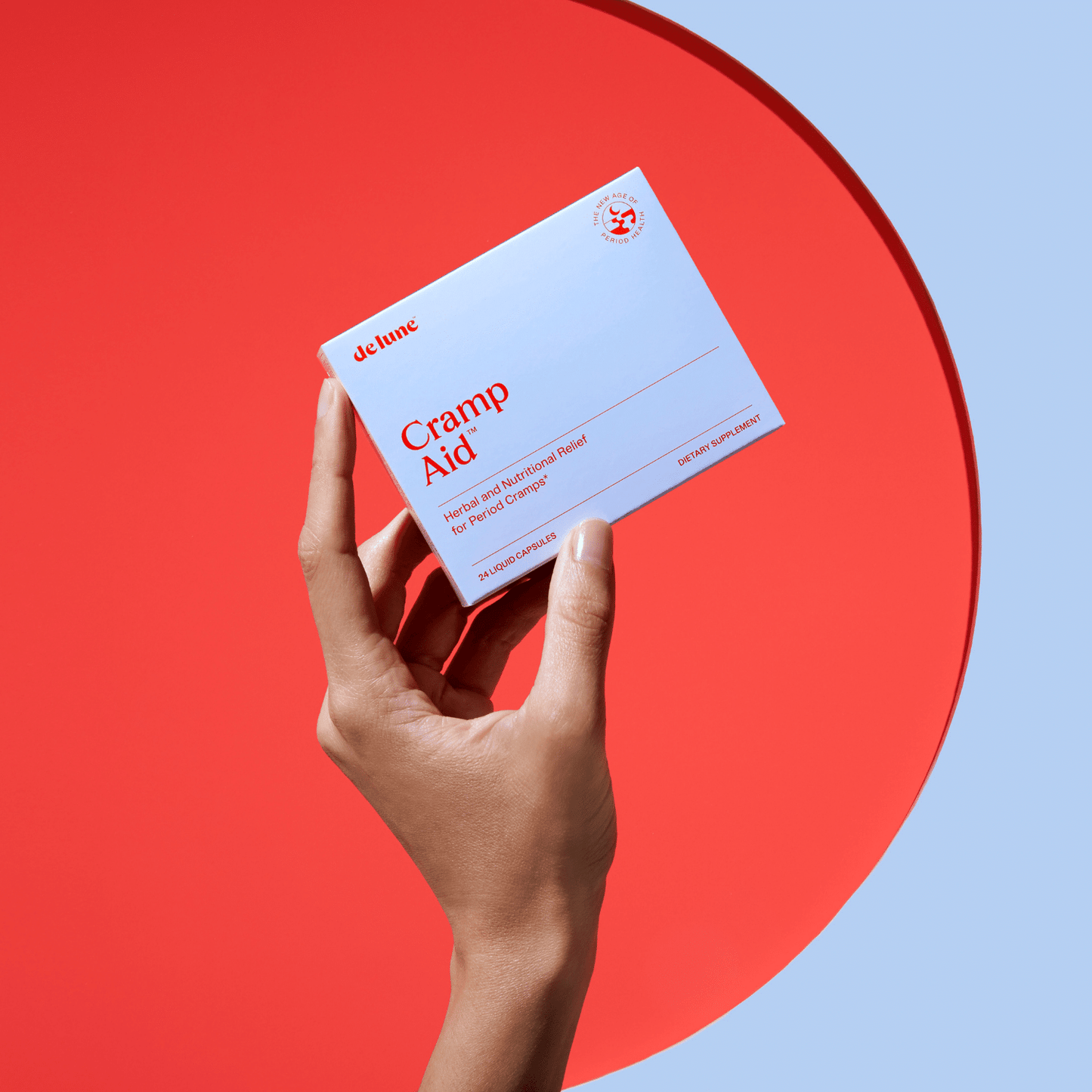 Your questions, answered.
I'm skeptical. Will Cramp Aid work for me?

No solution works for everyone. We know that every body is unique. But we also know that the vast majority of De Lune users (>83%) experience life-changing relief from period pain and PMS. With success rates like that, we believe it's worth trying! If you're still on the fence, we recommend reading the unfiltered reviews from De Lune users like you.
Why not just take painkillers for my period?

Over-the-counter painkillers don't address the root causes of difficult periods. And taking them month after month can cause well-documented side effects such as dizziness, stomach ulcers, and liver damage. This was the experience of our founder Mimi and the whole reason she started De Lune! Giving your body the nutrients it needs to combat period pain naturally is key. In a survey of 153 random Cramp Aid users, 80% reported that using Cramp Aid reduced or eliminated their need for painkillers on their period.
Do you have a money back guarantee?

Yes we do! We know how frustrating it is to waste money on products that don't work for you, because we've been there. While we're confident De Lune will help you and your menstrual health, if you aren't happy with the products for any reason just let us know within 60 days and we'll refund you. Easy peezy.
The results speak for themselves.
⭐️⭐️⭐️⭐️⭐️

"Life changing. I've always hated the side effects of painkillers - nausea, stomach issues, not getting rid of the cramps anyway?! Can't believe these actually WORK!! Tears of joy over here." - Sarah W.

⭐️⭐️⭐️⭐️⭐️

"If you're thinking of trying this DO IT!! I have tried EVERYTHING and some things help but you still need a heating pad and still want to scream. With this I worked right through my period!!!" -Rebecca D.

⭐️⭐️⭐️⭐️⭐️

"I don't know what kind of witchcraft this is lol but I had my period and almost didn't even notice! Cramp Aid worked for me when nothing else did. Blew my freakin mind." -Annie R.